Easter Seals Mail Campaign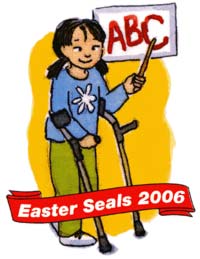 Each spring an important event happens throughout New Brunswick. For decades, Easter Seals has been announcing a change of season and reminding Canadians to help children with disabilities. By supporting Easter Seals, New Brunswickers are able to support disabled children.
The 2005 Easter Seals Campaign helped to raise over $30,000 for children with disabilities. This money will help provide children with disabilities with rehabilitation equipment, short/long term loans of equipment, technical aids and a chance to attend Camp Rotary.
Easter Seals New Brunswick gets to know the needs of their clients well, since Easter Seal dollars often must provide supports for our young clients throughout their childhood and adolescence.
One such client is an 8-year-old girl from Fredericton, who happens to have cerebral palsy. Easter Seals New Brunswick (CRCD) has provided her with rehabilitation aids and wheelchair equipment. In total, the Easter Seals New Brunswick Personal Services Program has provided 4 pieces of equipment to this child. Easter Seals New Brunswick(CRCD) coordinated the funding of the $10,000 communication device by contacting various groups and ordered the aid, which is already on loan to the young girl.
Thanks to Easter Seals dollars, we can provide these kinds of successes for hundreds of young clients every year!
Because kids quickly outgrow rehabilitation equipment, recycling is an integral part of the Easter Seals New Brunswick's work. Equipment is recycled to children identified with similar needs. And of course, Easter Seal dollars give children with disabilities from across New Brunswick a chance to enjoy a holiday experience at Camp Rotary. Camp Rotary offers a camping experience, while maintaining high standards and providing a variety of activities that can be challenging to all campers.
Easter Seals New Brunswick offers their services to children bilingually throughout the province. Easter Seals New Brunswick relies almost entirely on public donations and campaigns like Easter Seals. Easter Seals New Brunswick is, the principal provincial agency, working in partnership with people with disabilities so that they may attain independence and equality of opportunity generally available in the community.
If you do not currently receive our Easter Seal Mail package and you would like to be added to our mail list, please call (506) 458-8739 or Contact Us