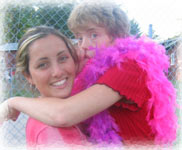 The Links & Resources Section of the Easter Seals website contains several pages of links. These provide information on other disability-related organizations, as well as sites containing information on various disabilities themselves.
The Affiliates section is a listing of our Easter Seal Affiliated Organizations across Canada. Each one of these sites provides information about that particular Easter Seals Affiliate.
The Other Disability-related Organizations section contains links that will take you to a list of disability-related associations and agencies in New Brunswick and across the rest of Canada.
Finally the Other Links section, contains a list of indexes, Search Engines, directories, and databases giving you a selection of key websites to use when searching for disability-related information on the Internet.
Affiliates
Easter Seals National Council Easter Seals National Council, through its members, is dedicated to excellence, to serving Canadians of all ages with disabilities. The National Council's efforts are directed toward fully enhancing the quality of life, self-esteem and self-determination of Canadians with disabilities. Visit their website at: www.easterseals.ca
---
Disability-Related Organisations
Please note that the presence of an organization on this list does not imply endorsement or approval by the New Brunswick Easter Seals. The list is provided simply as a service to assist patrons in locating websites.
New Brunswick Organizations and Agencies
---
Canadian Organizations and Agencies
---
International Organizations and Agencies
---
---
Other Links
This section is divided into several sections made up of Indexes and Search Engines, and Databases and Catalogues for Assistive Technology. You can use the menu below to go directly to a section.
Disability-Related Indexes and Search Engines
Canada
United States
International
---
Databases, Directories, and Catalogues for Assistive Technology
Directories - Specializing in Assistive Technology
Catalogues - From Selected Vendors
Organizations - Specializing in Assistive Technology
---
---