What Is the Software Preview Centre
The Preview Centre is a place where you can evaluate a number of different software titles and use other assistive technologies which are specifically designed to address the needs of various disabilities.
The Preview Centre is intended for Education and Health Care Professionals but if you're a person with a special need or you know someone who is and you're in the market to purchase some assistive technology but are unsure of what's out there and you need a hand with deciding whether or not it would be beneficial to own a certain technology then you're more than welcome to come in and experience the products that we showcase because with the cost of things nowadays it just makes sense to try something before you buy it.
We're also proud to announce that we are an official Clicker Center. Currently there are only four Clicker Centers in all of Canada and Easter Seals NB is one of them. Come into the Preview Centre to receive Clicker 5.0 and other Crick Software promotional materials.
Special Needs Software & Hardware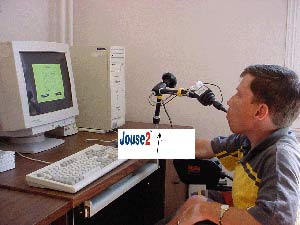 The ESNB Preview Centre also offers a selection of demo and trial versions of special needs software. Choose from several titles offered by Laureate Learning Systems or the following line of product: DyslexiWrite, ClipReader, Dictionary Trainer, PenReader, and ScreenReader.
Try out some of our assistive technology equipment as well as the special needs software. We have assessment items such as: the IntelliKeys keyboard, the IntelliSwitch switch interface, the Don Johnson Switch Interface, and the new Jouse 2 generously donated by Compusult Limited located in Mount Pearl, Newfoundland.
If we don't have what you're looking for then Easter Seals NB will provide you with Internet links, vendor contact information and other means of obtaining what you want.
Please contact us for an appointment.
Software Titles Available for Preview
---
WordQ & SpeakQ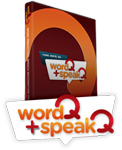 WordQ with SpeakQ is the first and only integrated word prediction and speech recognition tool available. It has been designed to be more forgiving than other programs, offering more success for users. It's perfect for those who struggle with writing.
---
Laureate's Micro-Lads Modules 1-7

Based on years of clinical experience and extensive research, Micro-LADS provides exactly the kind of instruction that children with language-learning disabilities need to acquire the grammatical forms of English. Seven modules use over 600 pictures to train comprehension of 46 fundamental grammatical structures.
---
Crick Software's ClozePro

ClozePro is a tool for cloze activities - children click on words to fill in gaps in sentences. You can also use it to create paper-based cloze activities very quickly and easily. It provides a range of exciting and stimulating cloze activities. It is for learners of all ages and abilities. It is suitable for use across all subject areas.
---
Crick Software's Wordbar

Wordbar is a toolbar that sits along the bottom of your screen. You can click on words and phrases in Wordbar to send them to your word processor. It has rapid point-and-click access to thousands of words. Has a great looking user interface for any age. Words and phrases in Wordbar are organised into tabs - just click on tab to see a different set of words. Wordbar comes with high-quality software speech so you can hear words or phrases before you write. You can also use speech voices for other languages, or record your own speech.
---
IntelliTools' Overlay Maker 3.0

It does more than let you create overlays to personalize the IntelliKeys keyboard. It opens up a world that was previously closed to students with special physical and/or cognitive needs. Use Overlay Maker 3 to ensure that all your students have access to the curriculum. You can create custom overlays for any IntelliTools Classroom Suite activity. IntelliTools Classroom will create the keys for your overlays, which you can edit and print with Overlay Maker 3. Or you can create overlays with IntelliTools Classroom Suite and send them to the DynaVox 4, providing DynaVox users with access to IntelliTools Classroom activities.
---
Mayer-Johnson's Boardmaker 5.0

Create printed symbol-based communication and educational materials with Picture Communication Symbols and other pictures and graphics in 42 languages!
---
Madentec's Discover Pro 2.0
This is the new version which is available for the brand new switch interface called IntelliSwitch. The IntelliSwitch replaces the Discover:Switch USB product and the Discover:Kenx USB. It offers a choice of input methods to match users' individual access needs; complete keyboard and mouse alternatives optimized for various ability levels; setups geared to match many software programs; and integrated speech software that aids in making correct selections and lets users communicate as they work.
---
Nuance's Dragon Naturally Speaking 8 Standard

Instantly turn what you say into E-Mail, Instant Messages, and more. Dragon Naturally Speaking is a very popular speech recognition software with a proven track record.
---
Marblesoft Software's Early Learning I

Early Learning I is widely acclaimed as one of the best educational programs ever for pre-reading students with disabilities. Dozens of options allow the teacher to custom-tailor the program to any student's needs. Early Learning I includes 4 activities that teach pre-reading skills. Each activity features multiple levels of difficulty. Single- and dual-switch scanning are built-in (6 different ways), and special prompts allow blind students to use all levels of difficulty.
---
Marblesoft Software's Single Switch Games 2

They've taken some games similar to the ones you enjoyed as a kid and made them work just right for single switch users. Your kids will love them. It features 14 games, including 4 two-player single switch games; all activities are controlled with a single switch; each activity starts very simple and progresses to very challenging; 4 modes of play for students with multiple disabilities, including cause and effect and a special demo mode; Optional simple background mode uses bright colored shapes on plain dark backgrounds to make the activities easy to see; and Top 10 screen shows the last 10 games played, so the player always sees their name in the top 10.
---
Inclusive TLC ChooseIt! Maker 2

It's easy to create decision-making activities with ChooseIt! Maker 2. It is particularly useful for helping switch users learn to make choices using scanning techniques, as you can create lots of appropriate and interesting activities in finely graded steps of progression.
---
Crick Software's Clicker 7

The latest version of Clicker is more accessible, user-friendly and customisable than ever before. Clicker 7 helps every child to play an active role in their own learning and offers complete support throughout the writing process. There's even more writing support for pupils, and it's easier than ever for teachers to provide personalised literacy support across the curriculum.
---
Nuance's Dragon Naturally Speaking 10 Preferred

Provides small business and advanced PC users the power to create documents, reports and emails three times faster than most people type with up to 99% accuracy. Surf the Web by voice or dictate and edit in Microsoft Word and Excel, Corel WordPerfect, and most other Windows-based applications. Create voice commands to quickly insert blocks of texts or images such as your name, title, and signature. Dictate into a handheld device when you're away from your PC, or use a Bluetooth microphone for the same great dictation results without the wires. Dragon Naturally Speaking is a very popular speech recognition software with a proven track record.
---
Accelerations Educational Software's DT Trainer

Was designed to teach individuals with autism and other learning or retention disorders. The current educational content is appropriate for learners developmentally between 2 and 9 years of age. These individuals vary greatly and need highly adjustable software to meet their needs. The configurability within the DT Trainer allows the user to adjust the software for learners with special needs to typically developing individuals.
---
Mayer-Johnson's GoTalk Overlay Software v3.0

The Go Talk Overlay Software v.3 is an updated version that comes with the complete Imagine Symbol Set and an integrated online search feature that gives you instant access to millions of symbols organized by category. Overlay cells can now contain multiple images and text boxes, so you can create personalized communication boards. Editing features let you adjust color, size, and font of the text. Move, enlarge, rotate and crop pictures. Choose from dozens of ready-made templates for all of Attainment's augmentative and alternative communication (AAC) products, plus standard paper sizes.
---
Inspiration Software's Inspiration 9

The ultimate thinking and learning tool. Brainstorm ideas, structure your thoughts and visually communicate concepts to strengthen understanding with the Diagram and Map Views. To take notes, organize information, and structure writing for plans, papers and reports, use the integrated Outline View to focus on main and supporting ideas and to clarify thinking in written form. With Inspiration's Presentation Manager, transform your diagrams, mind maps and outlines into polished presentations that communicate ideas clearly and demonstrate understanding and knowledge.
---