The Gift of Camp Rotary
July 07 2020
The Rotary Club of Fredericton and Easter Seals New Brunswick have held a shared vision for Camp Rotary since becoming partners in 1972. The Rotary Club of Fredericton is pleased to announce that they have gifted Camp Rotary to Easter Seals NB, their partner of 48 years. The gift of Camp Rotary is a sign of the overwhelming generosity of the Rotary Club of Fredericton and their commitment to keep the camping experience alive for the campers and their families. Both parties believe in the intrinsic value of camping in a residential setting and that all persons with a disability should have the opportunity to experience all aspects of camp life. Inclusion enhances the lives of all campers, staff, and volunteers who participate. Life at camp creates a community respectful of the participation and individuality of everyone involved.
Located on the shores of Grand Lake, the Camp comes alive each June with smiles and laughter and songs that can be heard across the lake from dawn till dusk.Camp Rotary has been offering summer camp adventures for people with a disability since 1952. In 1972, the Rotary Club of Fredericton partnered with Easter Seals New Brunswick. Throughout this partnership, Easter Seals NB over -saw the day to day operations of the camp and enhanced programming while the Rotary Club of Fredericton focused on maintenance and keeping the camp in good working order. Originally operated as a therapeutic recreation centre for children with physical disabilities, after the polio epidemic, the camp now offers a host of summertime activities for children and adults of any ability level.
Easter Seals will continue to provide this important camping experience to families throughout New Brunswick as we know how important the camp is to our campers and their families. We are grateful to the Rotary Club of Fredericton for the opportunity to continue making the summer camp experience accessible and inclusive in NB.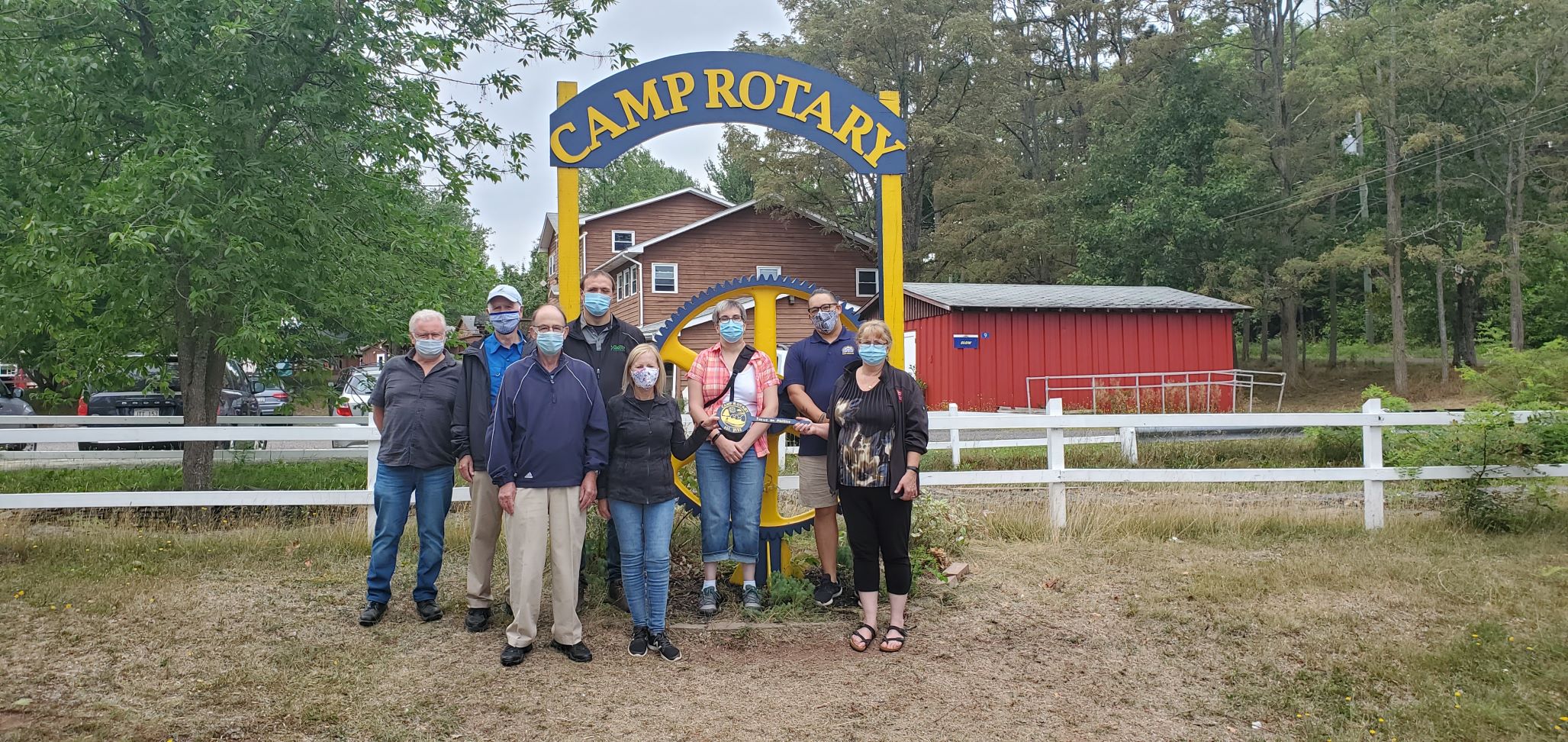 Left to Right: Rick Toner (RCF), Ray Dickson (RCF), Alastair Lamont (RCF), Paul Blanchard (RCF), Krista Wilson (ESNB Board Member), Matthew Jay (Director, Camp Rotary), Julia Latham (Executive Director, ESNB)